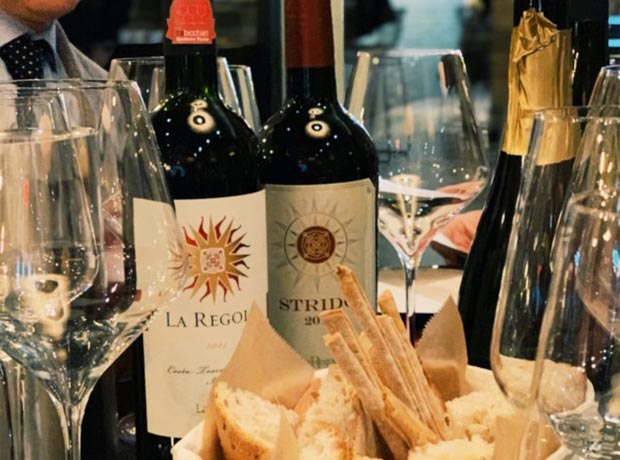 La Regola: Benchmark for Cab Franc in Italy -vintrospective.com
I haven't always been super receptive to Italian wines based on international grape varieties. That's not to say that I've been unkind in commentary. More that I've been, well … somewhat ndisinterested.
Considering the depth and breadth of Italy's own native grape varieties, coupled with the fact that versions of wines based on international varieties grown in Italy were simply being better-made elsewhere (in most cases), I wondered what producers could possibly be trying to accomplish.
Until now.
The benchmark set by the extraordinary Cabernet Franc known as Cru La Regola (Costa Toscana Rosso IGT), the flagship wine made by the producer of the same name, represents what I imagine other producers of similar wines have been hoping to achieve.
Simply put, La Regola is one of the best expressions of Cabernet Franc in Italy I've tasted to date.
And lest you imagine Podere La Regola to be a "one-trick pony" … let me tell you: I was floored by their bottling of 'Laura' (Costa Toscana Bianco IGT), too, a blend of Viogner and Chardonnay in the French style. (Round and divine, enjoyed with equally divine saffron garganelli with rabbit at Cardoncello Divino in NYC.)
At lunch with La Regola's Flavio Nuti (commercial / administration / marketing), we also tasted the winery's lees-y and delicious vino spumante brut (metodo classico without dosage) – Gros Manseng with a splash of Chardonnay – whose naturally high acidity opened the appetite, and 'Strido' (Rosso di Toscana), a smooth, wide-shouldered Merlot sporting an impeccable wood regimen carried out in Burgundian-made barriques.
Podere La Regola is an organic, eco-friendly winery located in Riparbella on the Tuscan coast. Total production ~100K bottles. Learn more at www.laregola.com.